HOME > Facilities・Services
Common Room (Lounge)
■This is a space to meet and interact with other guests, or to just relax yourself.
■Please make a good use of free internet service and travel guides.




■Offering coffee and tea (black tea/green tea) for free.
Help yourself to drink.


Kitchen
■Having a self-catering kitchen for your use.
Basic seasonings are available.




■Guests are free to use..
・Refrigerator
・Rice cooker
・Toaster
・Micro-wave oven
・Electric kettle
・Electromagnetic cooker(IH)


Shower Room & Bathroom
■Bathroom and shower booths are available 24 hours a day.
*Note that it is not available during cleaning time.
*Note that you need to wait for using shower facilities, at a peak period, etc.

・One bathroom with a bathtub is provided.
- It is a common bath for family use.
- You can lie in nice bathtub filled with warm water.




・Shower booths are respectively separated for male and female.
(One for male, one for female)




*The 2 in 1 shampoo and conditioner, body soap, or cleansing foam and make-up remover (only for female shower booth) are exhaustively complete.


Toilet
■Men's toilets, women's toilets and unisex toilets are exhaustively complete.
- Shower toilets (heated toilet seats with selectable warm shower/bidet functions) are provided.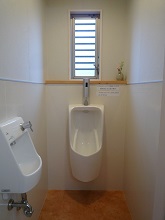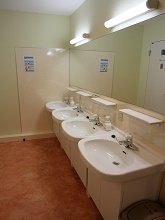 Amenities for Sale
■The following amenities are available for sale.

| | |
| --- | --- |
| Hand towel | 100 yen |
| Tooth brush | 50 yen |
■The following amenitie is available for rental.
| | |
| --- | --- |
| Bath towel (1 time) | 150 yen |
Amenities
■Free hair driers are supplied in front of the common room (lounge).
They are freely usable.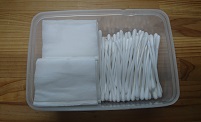 Washing Machine and Dryer machine
■Washing machine and dryer are subject to fees.
| | |
| --- | --- |
| Washing Machine (including detergent) | 200 yen |
| Dryer machine | 100 yen |
■Dry laundry on the balcony available.
Bicycle Rental
You can rent bicycle in here.
When you use a bicycle, you can go anywhere in Kyoto city !!

■Please ask the front desk for bicycle rental (with 3 speeds).
■It is on a first-come-first-served basis since the bicycle is limited in quantity.

[Available time]
8:00 〜 21:00


| | |
| --- | --- |
| Bicycle Rental | 500 yen/day |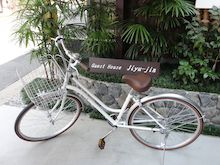 Internet
■Free Wi-Fi is available.
■Internet is available 24 hours in the common room.
■All guest rooms are equipped with LAN internet access so that you can connect your own computer.


Luggage Storage
We can temporarily keep your luggage for free before check-in and after check-out.

-Before check-in, please bring your luggage between 8:00 and 11:00.
-After check-out, please pick up your luggage between 16:00 and 21:00.

※If you would like to leave the luggage between 11:00 and 16:00 (Closed time), there are coin-lockers in the Kyoto station.
We recommend to use the coin-lockers at Kyoto Station.



Bed Sheets Exchange
Please ask the front desk for bed sheets exchange.

| | |
| --- | --- |
| Bed sheets exchange | 200 yen/exchange |