[ General Information ]
[QUICK BASIC INFORMATION] (FROM JULY, 2020 - PRESENT)
Currently, there are differences from the before correspondence.
(From July 2020)


[INTRODUCTION]
■Currently, as a measure against infection, we are simplifying the counter services such as check-in.
There is no on-site staff at front desk.
We apologize for any inconvenience caused.
■We kindly ask for your understanding in advance when making a reservation.
■For your questions or problems, we have an intercom at the front desk that you can call at any time.
(Since it is not available 24 hours a day, please note that there may be times when we cannot respond immediately.)
■In addition, as an infection control measure, some of the shared items (hand towel, free drinks, etc.) are disposable.
■Feel free to relax in the house.
Our house is a quiet place that is conductive to spend your time slowly.
All rooms are private rooms, and you can spend your time in the room, watch TV in the common room, and spend your time freely. Relatively many guests spend their time individually at our house.
*For those who want to interact with people and those who like the lively atmosphere, it may feel a little unsatisfactory.
[CHECK-IN]
- The front door is always locked.
- The detail about check-in will be informed through our E-mail.
- Please note that we may decline your reservation if you are staying for one night only and arrive late at night (after 22:00).
[CHECK-OUT]
- Check-out time is until 11:00.
- Please return the room key to the front desk.
- In a basic way, Check-out is non-face-to-face.
[LUGGAGE]
If you wish to keep your luggage before check-in and after check-out, please let us know in advance.
[FACILITIES/AMENITIES/OTHER]
- All rooms are private.
- All rooms can be locked from the inside. (auto-lock system)
- All rooms are equipped with an air conditioner.
(However, since there is no air conditioning system in the corridor, you may feel hot in the summer and cold in the winter.)
- Free Wi-Fi is available.
- We have TV and kitchen in the common room.
- Toilets, baths and shower rooms are shared.
* Available 24 hours a day. (Excluding cleaning time)
* Note that all rooms are without toilets and baths.
* There is a public bath near our house. ("Hakusanyu": Fee 450 yen/About 6 minutes on foot.)
- Products available for sale;
・Face towel (100 yen)
・Toothbrush (50 yen)
・Subway/bus one-day ticket (1,100 yen)
- Available for rent;
・Washing machine (200 yen)
・Clothing Dryer (100 yen)
・Bath towel (150 yen) (The first bath towel is free.)
- We have the following items that can be used for free;
・Hair dryer
・Two-in-one shampoo
・Body soap
・Make-up Remover and Cleanser (female)
・Cleanser (male)
・Cottons
・Cotton swabs
・Refrigerator
・Microwave oven
・Bread toaster
・Rice cooker
・Electric hot-water pot
・Basic seasonings (edible oil, salt, pepper, soy sauce, etc.)
・Cooking devices (pots, pans, etc.)
・Tableware (plates, cups, etc.)
・Drinks (coffee, tea, etc.)
・Slippers
・Shoebox with key
・Iron and ironing pad
・Sewing set, and the like.
* Please let us know if you need anything else.
* The bicycle rental service is temporarily stopped. We will tell you about the shops for bicycle rental.
[IMPORTANT REMINDER]
- We do not allow non-guests to enter our house or enter the room. (In some cases, we may inform the police about it.)
- Payment will be made in one lump sum at check-in on the day. (No reservation fee required)
-We also accept credit cards.
* However, please pay the "accommodation tax" in cash.
- No meals will be provided.
* You can prepare your own food to eat and drink in the common room or in the room.
- Smoking is prohibited in the house.
* We have a smoking area. When you smoke, please use the balcony outside the common room on the 2nd floor.
- We have no elevator. Please use the stairs to get to the room on the 2nd floor.
* Our guest rooms and other facilities are on the 2nd floor.
- Maximum 4 people per group.
- As a general rule, we do not allow any guests under the age of 13 to stay.
* However, it is available if you wish to [Charter guest house]. (This is possible only if there are no other guests.)
- Please note that it may be easier to hear sounds from other rooms or outside.
- The interior of the house is not like a "Machiya."
- We do not have a parking area exclusively for guests.
* When arriving by car, please use the coin parking space (you need to pay for it) near the guest house.
Please be sure to acknowledge the above before making your reservation.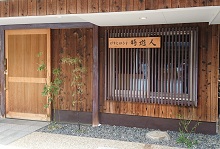 Regarding measures to stop the spread of the infection
Currently, as part of the measures, we are simplifying the counter services such as check-in, and the like.
We apologize for the inconvenience, and thank you for your understanding.

■Hygiene Control
- Our employees are required to wear masks, disinfect hands and fingers, and check temperature.
- In order to prevent droplet infection, a transparent vinyl sheet is installed at the front desk to carry out the counter services.
- We install products (alcohol) for disinfecting hands, ventilate the house, and clean and disinfect the areas that are often touched by hands.

■Requests to Our Guests
- If you feel sick or feel something wrong in your physical condition during your stay, please notify our employees immediately.